This post has been linked to the marvelous
Under the Table and Dreaming Blog
via her Growing Tree Toys giveaway linky party. Click this link below to see some amazing projects!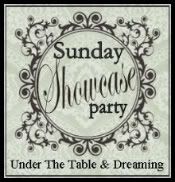 It has also been linked to the awe-inspiring and humbling
Organize Your Stuff Now
blog, which hosts a weekly organizational coop of sorts - all your crafty organizing ideas are welcome at the link below!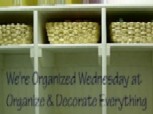 Approximately forty-five minutes before my husband sliced his thumb open with a Kiwi knife (they really are excellent knives), I began construction of the following list notebook:
I even...wait for it...wait for it...
Photo-documented my phony-journal-making adventures to create my first ever tutorial on My Handmade Hell. Now, I know that this isn't a wearable item, and I'll be honest: not everything I make will be. In this particular case, I needed a good, creative, well-designed little notebook for keeping my ideas for blog posts and my ideas for craft projects handy. What I got was a sort of schlubby, misshapen, vaguely useful pile of paper, but one I'm super happy with, and with the proper amount of time and the right materials, I'll bet someone could make something far better than this. Hence, a tutorial.
Here's what you'll need:
1. One large shipping envelope, preferably one with a misspelling on the label so it can be recycled instead of thrown away.
2. Several sheets of paper with 1/3 size lists on them. I got the Dreamy Blog Topics to Post list for free at
Erin Vale Designs
, and I made the Best Ideas list myself in Word. All have been printed on the backs of misprinted paper I've been saving up for a while. I have enough of each for a full year of ideas.
3. Some scrap/cheap yarn for binding purposes.
4. A paper cutter.
5. A 3-hole punch.
6. A marker for marking stuff up.
7. A variety of ribbon, lace, fabric scraps, or any other small crafty items you like to decorate the front (not pictured).
Note: Instead of using an envelope, you could use something sturdier, like the cardboard from a cereal box or something, but keep in mind that you'll need to be able to fold it down the center of the notebook.
Step 1: Use the paper cutter to slice up your lists. I really like the funky hand-made look, so I wasn't too picky about getting all the sheets the exact same size. Your preferences might dictate otherwise.
Step 2: Using the paper cutter, chop off all four edges of your envelope so you have two separate large pieces (front and back). The front will be your cover. The back will be cut into smaller covers for your list sheets.
Step 3: Set your list sheets in the middle of the cover with more than an inch of space between them. Make sure the tops and bottoms line up properly. Use a straight edge to mark around them on the envelope around an inch away from the edges of the list.
Step 4: And cut along those lines.
Step 5: Take the OTHER piece of your envelope (the backside)and lay the list stacks along the sides. Trace around them, leaving about a half-inch allowance on all sides. These will be your list covers.
Step 6: Cut out what you just traced and place it all together - cover, lists, and list covers. Now it's starting to come together!
Step 7: Use the 3-hole-punch thoughtfully to punch holes in the lists and the list covers.
Step 8: Punch holes in the cover so that they'll line up with your lists and list covers.
Step 9: Cut four fairly-equal lengths of yarn (mine were about eight inches long). These will be your binding. If you have more than two holes on each side of your notebook, then obviously you will need more lengths of yarn.
Step 10: Thread the yarn through the top left hole in the cover, and also through the list sheets. I threaded my list sheets a few at a time, but if you were more careful with your trimming than I was, you may not have to.
Step 11: Now begin threading the yarn through the bottom hole, as before.
Step 12: Now thread the yarn through the holes in your list cover. In your most atrocious handwriting, write the name of whatever kind of list you're going to keep there.
Step 13: Tie the yarn
loosely
around the spine. You want it to be kind of loose and shifty so that you have room to open all the pages.
Step 14: Repeat steps 10-13 for the other side.
Step 15: Look at your creation so far. See if you need to trim away any of the cover to make it seem more uniform.
Step 16: Fold the whole damn thing in half.
Step 17: Receive an emergency call from your significant other as you are taking your last picture. Frantically return all the office tools you borrowed for this project while talking to your panicked 6-year-old daughter and uploading all the photos you took onto Picasa. Go home and clean up the blood. (Not pictured.)
Step 18: Once your significant other is safely back at home with 7 stitches in his or her left thumb, pull out all your favorite pretty bits and bobs and whip out your glue gun. Tack that shit on until the anxiety stops.
Of course, as with all craft tutorials, there is no one right way to do it. You might be more meticulous than I (and I hope you are!), so yours might be all one long cardboard piece covered in beautiful fabric. Your lists might be the pinnacle of tidiness, and your penmanship just might be a hair better than mine. But the important thing is that maybe after revising my tutorial in whatever way you see fit, you end up with what I have: an idea notebook you can be proud to jot your mental overflows into whenever you need it.
Please don't hesitate to ask me questions if any of this doesn't make sense or if my photography skills are just horrible (hint: they are). And feel free to share if you decide to make one too!